DRY SLIDES
Units are available to rent for School, Church or Public Events.

Rental Instructions
Service Areas & Delivery Fees:
The following are the areas we service. Delivery fee includes both the setup and take-down of event.
Area #1 – $20.00

Alton
Bethalto
East Alton
Hartford
Meadowbrook
Moro
Roxana
South Roxana
Wood River

Area #2 – $25.00

Dorsey
Edwardsville
Godfrey
Holiday Shores

Area #3 – 30.00

Brighton
Bunker Hill
Elsah
Glen Carbon
Granite City
Hamel
Pontoon Beach

Area #4 – $35.00

Jerseyville
Marine
Maryville
Payment:
A deposit of 50% is required to reserve your party date. The balance will be due on the day of the party. We accept cash, checks (must have a name, address, and phone number imprinted on the check), Visa, Master Card, Discover, and American Express credit cards.
Recommendations for bounce house units are as follows:
SET-UP & DELIVERY:
There should be a 5-foot clearance on all sides of the inflatable unit, including height.
If you are renting a unit for your backyard, please make sure there are no power lines, debris in yard (including dog waste), or trees in the set-up area.
We must have access to a power source to plug in the blower (no further than 100 feet).
Ground area must be level and on grass. If it is a parking lot set-up, we need to know in advance of set-up.
When doing indoor events at schools or churches, we need to know if there is access to double doors. We will not be able to accommodate any stairs.
Arrival time is generally an hour before start time when setting up one unit. More time will be needed for multiple units.
We will need a complete address to your event, and if a GPS will be able to locate it. If not, please let us know at the time you book it.
PUBLIC EVENTS:
Please advise us if it is a public event when you book it.
A public event is open for anyone to walk up and participate. You will be given a volunteer roster and a waiver of liability form to sign. Volunteers must be at least 16 years of age. There will be a $55.00 inspection fee per unit by the Illinois Department of Labor. We are required to have the unit inspected for any public event. We need at least a 2-week notice to be able to get an inspection done. 
WEATHER:
In the event of inclement weather, we refer to www.weather.com.
If there is a 50% chance of rain or greater, or high winds of 20mph, we will not set up the inflatable.
If it is less than 50% chance of rain or high winds, we will contact you on the morning of your event.
Make sure you have your phone close by the day of your event.
If you decide to continue with your set-up, there will be no refunds after delivery of the unit.
Our insurance company will not allow us to be negligent in setting up units in bad weather. The children's safety is our #1 priority.
REFUNDS: No refunds will be given after bounce house is delivered and set up, even due to bad weather. You will be contacted the morning of the event if the weather is questionable. In the event of rain or high winds on the day of your scheduled event, we will not set up any bounce house unit due to safety reasons.
SAFETY: Rules must be followed and are located on the front of the bounce house. A responsible adult must supervise children at all times. Renter is responsible for the safety of the children.
Recommendations for units are as follows:
Ages
6 & Under~ 7 to 8 at a time
7-12 ~ 5 to 6 at a time
Teens ~ 4 to 5 at a time
Adults ~ 4 at a time
If you need an attendant for a public event such as: school events, company events, and so forth, it is $20.00 per hour, per employee with a minimum of 3 hours.
Waivers of Liability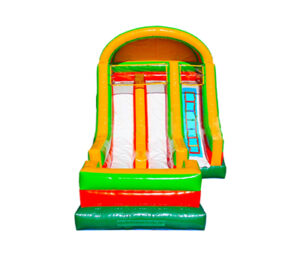 Have twice the fun sliding 2 at a time. Recommended minimum height is 36″ tall.
Unit measures 11'Wx25'Lx16'H
Backyard: $300 | Corporate $350
Two players climb up the center to a height of 24 ft, zip down, and they will be ready to do it again! Recommended minimum height is 36″ tall. Unit measures 17'Wx32'Lx24'H
Backyard: $500 | Corporate $550